6 Ways the SHEMA97 Mask is Great for Summer
June 7th, 2021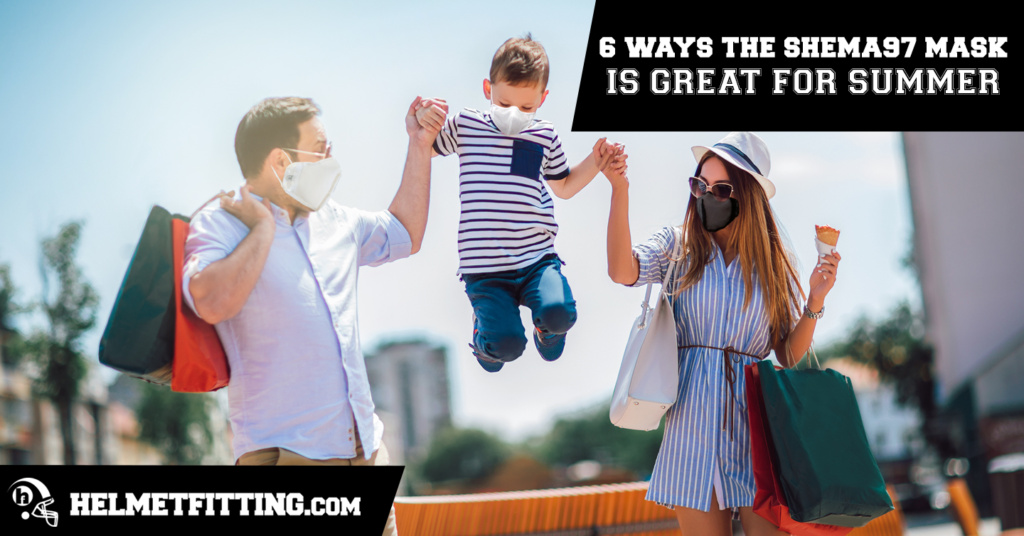 Even though more people are getting vaccinated and mask mandates may be changing, the CDC still recommends wearing them. Also, states, cities and businesses still have the authority to require that they be worn in their establishments. That means finding one that works with the upcoming heat, which leads us to all the ways the SHEMA97 mask is great for summer.
It's lightweight and breathable.
The one and only SHEMA97 mask by HelmetFitting.com is made of lightweight materials and was designed from the start to be breathable. That's why it's great for outdoor activities like sports where breathability is important!
It's easy to wash and reuse.
The SHEMA97 mask physically locks small particles, which are easy to wash out with warm water and a liquid, mild dish soap. Next, let the mask air dry. Do not wash and dry it in a machine. The masks can be washed safely up to 20 times!
It comes in light colors.
One of our favorite ways the SHEMA97 mask is great for summer is our new color choices! The sun is attached to darker colors, so it's a good idea to wear lighter shades in the summer. This includes your mask.
Luckily, the SHEMA97 mask by HelmetFitting.com comes in white and pink, which is a limited edition. Click here to order yours while they are available!
It is easy to adjust.
Ideally, you want a mask to be snug, but not tight. The SHEMA97 mask comes with adjustable stoppers on the ear loops. This makes it the perfect choice when it comes to fit. You control how it fits along the sides of your face and it doesn't hurt your ears.
Sizes range from medium to double XL. For all the size options and a size guide, click here.
It won't make you sweat more or absorb it.
Thanks to the science behind the SHEMA97 functional mask, it doesn't make you sweat more! Because it is breathable, it won't put your 98-degree breath back in your face!
Plus, you don't need to worry about the lightweight material or mask itself trapping moisture, which can irritate skin. And no need to carry around multiple masks because they get wet with sweat like the cotton varieties.
You can wear it comfortably all day long!
The number one reason SHEMA97 is the perfect summer mask? It can be worn comfortably for hours!
Summary
As things heat up this season, discover the ways the SHEMA97 mask is great for summer for yourself! Ordering is easy at store.helmetfitting.com. Learn more about the mask itself by reading our other blogs.