5 Uses for Huddlbox Beyond the Sidelines
August 4th, 2023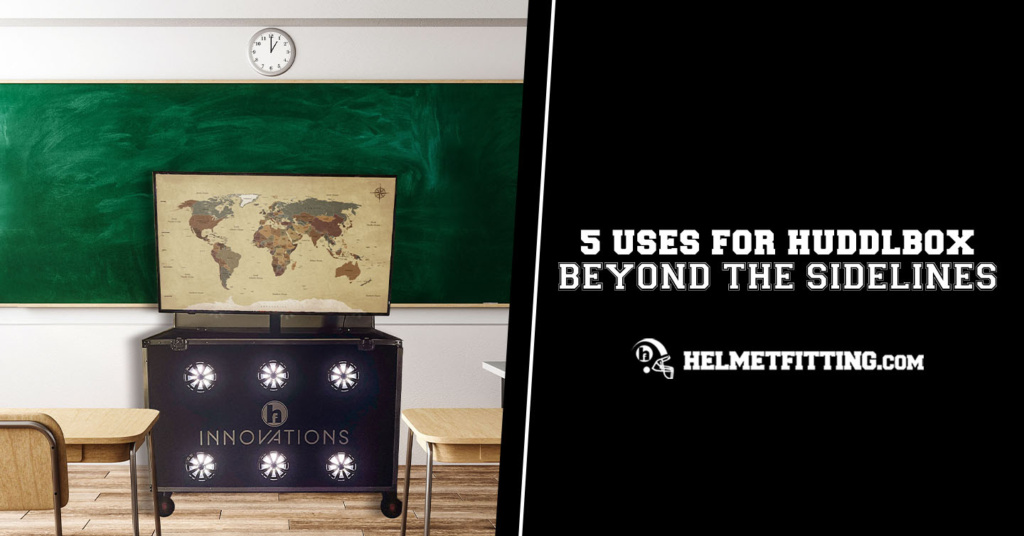 We know Huddlbox is a game changer when it comes to being on the field, but don't forget—that's not the only place it can help! Check out these uses for Huddlbox beyond the sidelines.
Classroom instruction
Need to show an instructional video? Having a movie day for your class? Let Huddlbox handle the show with ease!
Equipped with large screens and a built-in marine-grade audio system, this moveable box makes it easy to see and hear what is happening on screen from anywhere in the room.
Corporate presentations
Have a presentation for a large group, but don't have a room built with the equipment for it? Don't worry! Huddlbox is a compact, moveable system that you can stroll into any room in order to showcase your projects or initiatives.
Trade shows
We know it can be difficult to talk to everyone approaching you at a trade show, and it can be even more difficult to find the time to show everyone how your products work. With Huddlbox, you don't have to worry about that!
Using Huddlbox at a trade show to play your promotional video allows you to display your product to a large audience and allows customers to view and hear your video from various distances.
Tailgating
The tent, chairs, snacks and drinks—those are all essential parts of tailgating, but how are you going to watch the games? Let Huddlbox be your answer!
You can say goodbye to packing tables and worrying about traveling with your TV screen; with Huddlbox, it is all packed into a safe, durable box that can stream right from your computer or smart devices!
Plus, Huddlbox holds the TV, so you don't have to worry about unpacking or packing it up. And its wheels are equipped to conquer any tailgating terrain.
Parties and events
Need more reasons why you should choose Huddlbox? Parties and events are just another one of the uses for Huddlbox beyond the sidelines!
Each Huddlbox comes with a marine-grade audio system with built-in speakers. This allows you to blow the roof off of any party or event with the latest tunes out! Plus, you can choose between a Large Gameday Huddlbox with four speakers and the Huddlbox Elite with six speakers.
In addition, you can stream the latest music videos or play curated event slideshows on the screen!
Summary
Now that you know there are more uses for Huddlbox beyond the sidelines, are you ready to purchase your own? Click here to get started. And to learn more about Huddlbox products, visit the HF Innovations Store!
Finally, continue reading our blogs for more information on equipment safety, gameday gear and more!