6 Reasons to Use the SHEMA97 Mask for Airline Travel
February 4th, 2022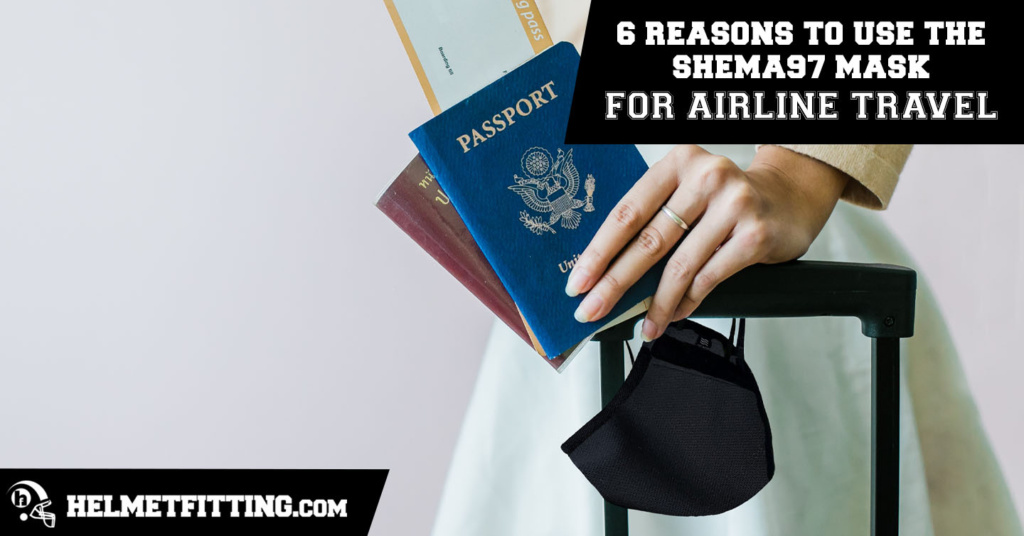 If you are planning on flying anytime soon, you will have to wear a mask in the airport and on the plane. Luckily, HelmetFitting.com offers mask styles that are airline-approved! Learn just why our masks are so great for flying with these reasons to use the SHEMA97 mask for airline travel.
It's breathable.
The mask is breathable for long-term use, which is a plus since you might be in the airport and on the plane for several hours at time.
The SHEMA97 mask has a neck strap.
This happens to be one of the reasons to use the SHEMA97 mask for airline travel that has a few reasons of its own! For starters, it's convenient. You're already toting all that luggage, so it's one less thing to have to keep up with.
Second of all, it keeps the mask handy when you have to quickly remove it for a face-check by security or to eat and drink.
Finally, you won't lose it or get it dirty due to overhandling!
It's adjustable.
Not only are the ear straps made with soft elastic, they come with an adjustable toggle. This is a nice feature when it comes to preventing discomfort due to long-term wear.
And let's face it, if you are uncomfortable, you won't be able to catch some z's on the plane in comfort!
It m

eets airline regulations.
While different airlines may have different mask policies, the Transportation Security Administration has stated masks must be made with material "without slits, exhalation valves, or punctures."
Our Black v2 and Pink v2 mask options are both opaque, which is recommended for airline travel. They feature our multilayer liner with a thicker, non-transparent outer layer.
The SHEMA97 mask fits snugly.
Thanks to our adjustable ear straps and functional nose support, the SHEMA97 mask offers a snug fit.
It's lightweight.
When you'rew wearing a mask for hours on end, you don't want one that rests heavy on your face. The SHEMA97 Mask by HelmetFitting.com comes in at less than ten grams, lighter than many competing products!
Summary
Now that you have all these reasons to use the SHEMA97 mask for airline travel, you just need to place your order before you fly! Not sure what size you need? Our blog about selecting the proper size can help. Keep reading our blogs for more tips on use, care and wear!