10 FAQs About the SHEMA97 Mask by HelmetFitting.com
May 6th, 2021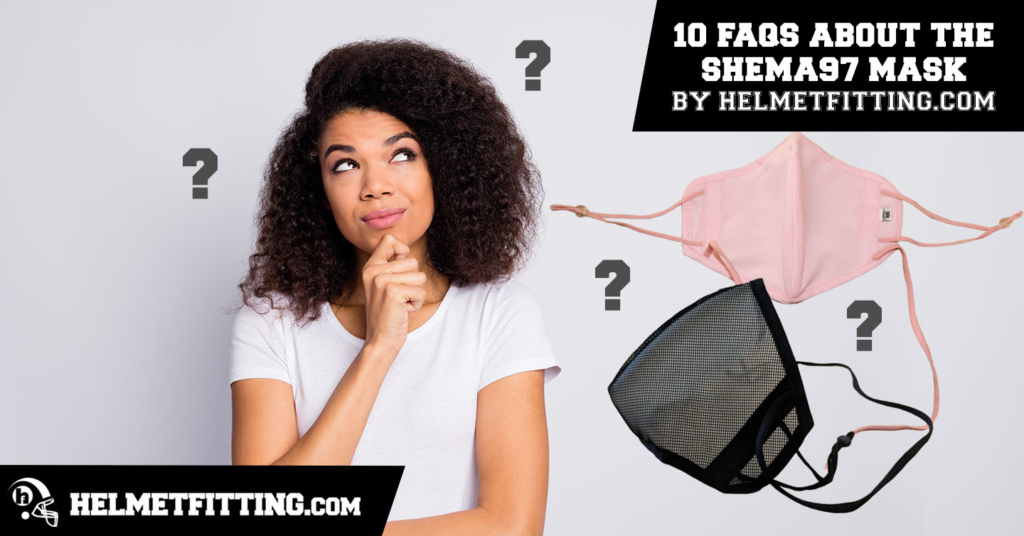 Over time, we get to know our masks pretty well. After all, we never leave the house without them! Still, you may find that you have a few questions about your constant companion. Don't fret—instead, read all about the answers to your FAQs about the SHEMA97 mask by HelmetFitting.com here. Let's get started!
Can I wear my SHEMA97 anywhere I need a mask?
In most cases, anywhere that you can wear a non-medical cloth mask, your SHEMA97 will be welcome! If the location you plan to wear it – such as an airport – has specific guidelines regarding transparency (whether your mask can be seen through), we recommend adhering to those guidelines with one of our opaque (non-see-through) v2 styles.
Our masks are also not respirators or N95-certified, nor designed for medical or surgical use, so if you will be in a situation where medical grade personal protective equipment or a respirator will be required, we cannot recommend the SHEMA97 Mask by HelmetFitting.com
How much will I have to pay for shipping?
This is one of the most common FAQs about the SHEMA97 mask by HelmetFitting.com. The answer? Not a cent, for those who live in the United States and U.S. territories! We include free shipping on every order there and for APO/FPO/DPO addresses. Shipping costs do apply for other countries, like Canada, though.
How do I put on my mask properly?
Wearing your mask correctly maximizes its effectiveness. Check out our instructional video on the process here.
Is every mask reusable?
Yes! Every mask is reusable. Just make sure you wash it frequently.
How many wash cycles will my mask last?
We recommend a maximum of approximately 20 washes. That's because the material is deformed slightly with each wash, and we want to ensure your mask stays intact and in great shape.
How should I wash my mask?
Please, handwash your SHEMA97 mask by HelmetFitting.com with mild dish soap and warm water. Then, let it air dry.
Can I wear my mask for other reasons besides preventing spread of COVID-19?
Absolutely! The SHEMA97 mask by HelmetFitting.com offers a wide variety of uses. From doing construction work where respirators are not required, to the struggle of allergy season, to mowing the lawn, you can find all kinds of ways to use our masks.
Can I wear the SHEMA97 mask by HelmetFitting.com on planes?
We recommend our v2 styles for air travel usage, as they feature an opaque appearance. Currently, they come in both black and pink! We cannot guarantee individuals working for airlines or the TSA will allow you to wear a non-v2 style, due to their semi-transparent appearance.
How should I determine the size I order?
You may have noticed that we offer four sizes: M, L, XL, and 2XL. M will suit those needing a youth or small adult size. L, on the other hand, should fit medium to large adult sizes. As for XL, it fits extra-large adult sizes. Finally, people with full beards or those looking for extra-large to extra-extra-large adult sizes should order a 2XL.
Where should I go if I have any additional questions?
If you have any other questions, we're happy to help. Contact us here or email us at [email protected]. Thank you!
Summary
You have FAQs about the SHEMA97 mask by HelmetFitting.com. We have answers. You need a mask? We have those too! Browse our selection online here. Finally, if you want to familiarize yourself even further, check out our blog.