7 Tips for Washing Your SHEMA97 Mask
July 6th, 2021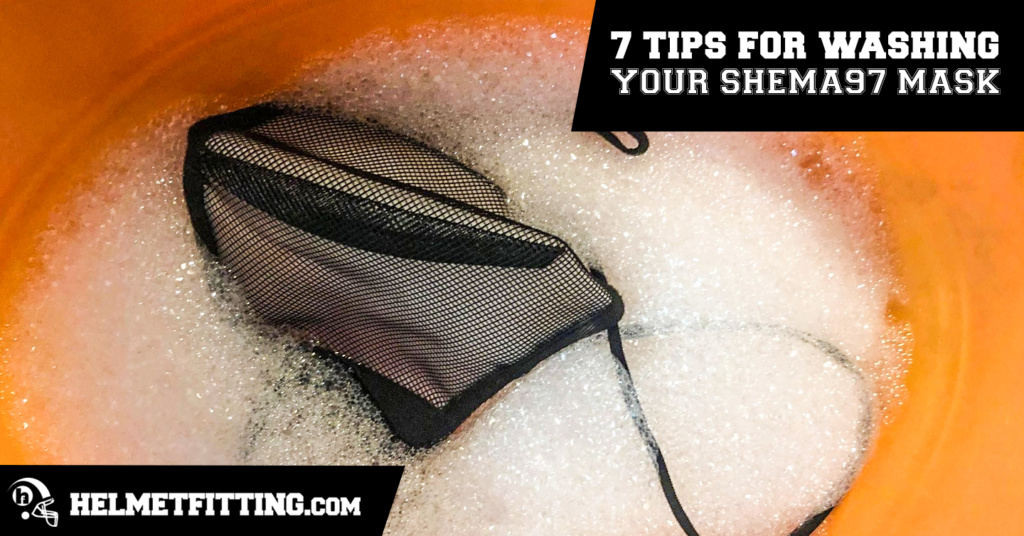 We want your SHEMA97 mask by HelmetFitting.com to serve you effectively for as long as possible. One of the main ways to make that possible? Cleaning it correctly! Our masks can last through up to 20 washes. After that, it may be time for a new mask. Ensure that yours remains in great shape by following these tips for washing your SHEMA97 mask.
Stay away from the washing machine.
Listen, we know it's tempting! Though using your washing machine to clean your mask seems convenient, the chemicals and process can damage your mask. So, stick with what works—hand washing!
Use dish soap and mild warm water.
Speaking of what works, you should wash your mask using diluted dish soap and mild warm water. That's right—no detergent!
Air dry.
No washers. No dryers. Instead, after you clean your mask correctly, hang it up to air dry.
Clean often.
We wear our masks for a variety of reasons. Naturally, re-wearing those masks sounds a bit counterintuitive. Please, clean your mask as often as possible!
Order more than one.
You may not have time to wash your mask every day. Look out for future you—and stay on top of our tips for washing your SHEMA97 mask—by ordering more than one. You can learn more about the process and the product here.
Keep a tally.
Getting groceries, paying bills, cleaning the house—we have enough to worry about. So, it makes sense that you may lose track of how many times you've washed your SHEMA97 mask by HelmetFitting.com. Try and keep a tally! You can use your notes app on your phone, a calendar, a journal—whatever makes it easy.
Only wash your own mask.
It's not selfish—it's sensible! After breathing in your mask all day, you don't want to make someone else wash it. Still, we bet this point stands as good news for those of us who do the bulk of the household's laundry!
Summary
Maybe you wear your mask while mowing. Perhaps you're a caretaker for someone with a vulnerable immune system. Or you don it for the job! No matter why you wear it, you can maximize its longevity with these tips for washing your SHEMA97 mask by HelmetFitting.com.
If you want to try one of our effective masks on for size, order yours here. Last of all, you can learn more about what sell—and how to make the most of it—on our blog.