12 Halloween Costumes to Wear With the SHEMA97 Mask
October 7th, 2021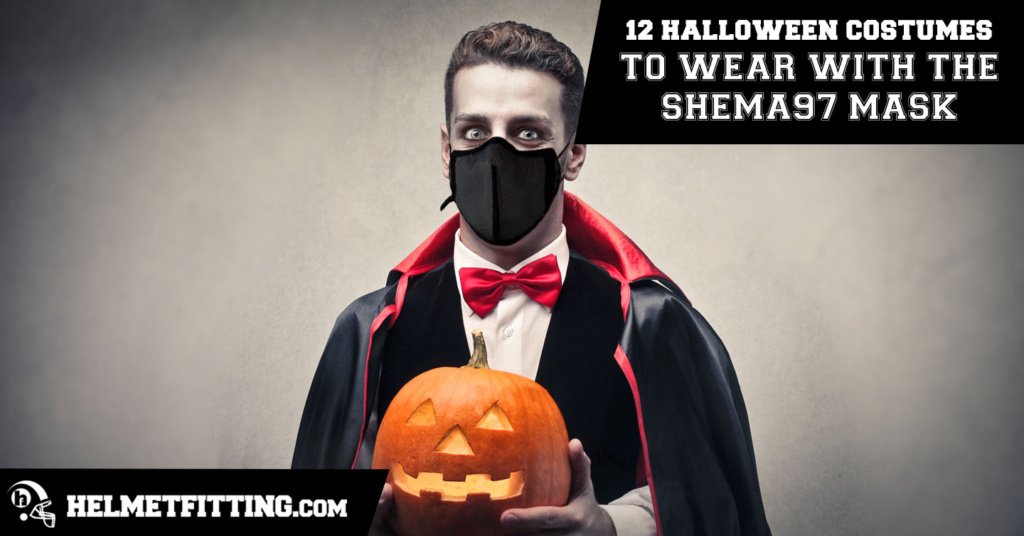 Halloween masks sure have taken on a different meaning in the past couple of years. Luckily, we have the SHEMA97 mask by HelmetFitting.com to keep us safe and styling, all season long. You can even use it to accessorize your look! Use these Halloween costumes to wear with the SHEMA97 mask to spark your inspiration.
Black mask
Let's kick off our list of Halloween costumes to wear with the SHEMA97 mask with a clean black style. You can use the V1 or the V2 for these ideas.
Vampire
After you don your costume, put on a black mask. You can't forget the fangs, though! Tape triangles of white paper on to complete the ensemble.
Spider
Or, you could take the teeth one step further, and dress like a spider with pincers. Will you go as a black widow, a jumping spider, or a mouse spider?
Pirate
Get a black mask to match your eye patch for a quirky pirate costume. And don't forget that hook hand, either!
White mask
Our white mask is just as versatile. Here are some options!
Ghost
Boo! Wear a mask under your costume—or add a second one on top—for a retro Halloween fit.
Mummy
Want something nice and simple? A white mask will blend in perfectly with all those bandages!
Doctor
You could dress as a typical doctor, or you could go for a scarier vibe as a bloody surgeon. Take your pick!
Black V2
Our black V2 masks can easily blend into your costume. Use it with options like these!
Skeleton
No bones about it—a black V2 mask would look great on top of some skeleton face paint.
Grim reaper
What's that under the hood? It's a black V2! Use it to complete your gruesome grim reaper costume.
Black cat
This one's a fan-favorite for a reason! Dressing as a black cat is a classic. You can even tape some whiskers and a nose to your mask!
Pink V2
Got a pink V2 on hand? You can use it for costumes like these!
Bubblegum
Classic and sweet! Pair one of our pink V2 masks with a pink unitard and wig for a sugary bubblegum costume.
Pink Lady from Grease
Grease fans, you've got the perfect costume waiting for you! Go vintage with a modern twist when you dress as a Pink Lady from Grease in a cute V2 mask.
Pink pig
Option one: a typical farm pig. Option two: Miss Piggy. Option three: Porky Pig. Option four: One of the three little pigs. And, well, you get the point!
Summary
Only three more weeks until Halloween! That means you still have plenty of time to decide what you're going to wear. Mummies, ghosts, or even a spooky surgeon—you can find plenty of Halloween costumes to wear with the SHEMA97 mask.
Need to order yours before the holiday? Visit our site and pick out the color and option you need! Finally, for more on our masks and how they protect you and others, check out our blog.