9 Reasons the SHEMA97 Mask is a Great Gift
December 6th, 2021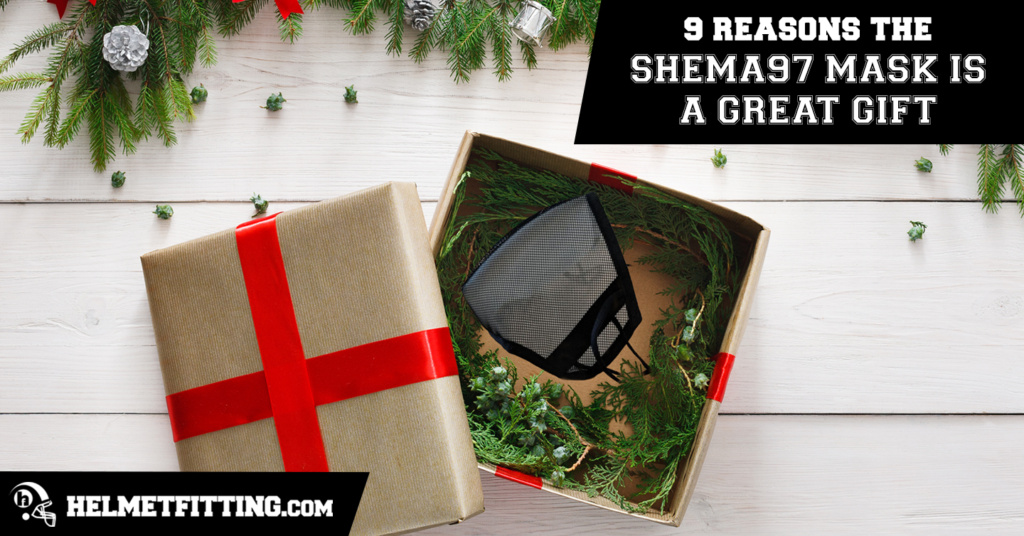 There's no better feeling than people unwrapping the presents you carefully picked out for them and seeing their faces light up. Conversely, there's nothing more stressful than searching for that one glorious gift! If you're stumped this season, don't stress. You can always wrap up something special: safety. After all, there are many reasons why the SHEMA97 mask is a great gift—and we'll tell you a few!
Stocking stuffers
Chocolates, scrunchies, and now the SHEMA97 mask—you can fill your stockings with all kinds of goodies. And the SHEMA97 is the perfect size to place in a stocking!
Work party gifts
Do you work in a bustling café? Or a packed office? What about a crowded restaurant? The next time you and your coworkers throw a work party or secret Santa, you can give one lucky person their own SHEMA97 mask from Helmetfitting.com.
Everyday use
From going grocery shopping, to getting takeout, to attending classes, many of us prefer to wear a mask regularly. The SHEMA97 mask is happy to step up to the plate. That's right—it's a gift that you know the recipient will actually use on a regular basis.
Learn more about some of the ways you can utilize it here.
Multiple options
Some of us like to coordinate our masks with our outfits. Others like a simple black mask to go with everything. Luckily, the SHEMA97 has options! They include semi-transparent black or white masks, as well as opaque pink or black V2 masks.
We even have a limited-edition camouflage mask in limited size options. When it sells out, that's all, so order yours soon!
A variety of sizes
One-stop shopping is king around the holidays! It's also one of the reasons why the SHEMA97 mask is a great gift.
Because you can purchase a variety of sizes, you'll be able to find a mask for everyone in the family. Our smallest mask is designed for those aged four and older. As for the sizes, we have XXS to 2XL.
And, in case Santa was wondering, the 2XL was made for those with beards!
Breathability
Lack of breathability can be a real dealbreaker when it comes to masks. The SHEMA97 is arguably most the breathable mask there is.
Excellent sound transmission
Like 2020, holiday celebrations may look a little bit different in 2021. If your table is filled with folks wearing masks, you'll want to hear what they're saying. The SHEMA97 mask offers excellent sound transmission.
Great for airlines and theme parks
For many of us, holidays involve travel. You can fly safely with our V2 masks. And, if your gifts happen to include a trip to a theme park or other cool destination, your trusty V2 masks will help you on your journey.
Football fans will recognize it
Who else here loves college football? This season, you may have noticed coaches donning the SHEMA97 mask. That means the football fans in your life will appreciate sharing the same gear as the person who leads their team to victory!
Summary
The holidays should be successful, not stressful. Take the burden off your shoulders and find a present everyone will the love. After all, there are so many reasons the SHEMA97 mask is a great gift—especially the convenience for you.
Stay safe this season with your own SHEMA97 mask. Or, pick out options for the people on your list. You can get started here. Last but not least, for more on our masks and how they work, check out our blog