9 Convenient Places to Hang Your SHEMA97 Mask
June 8th, 2022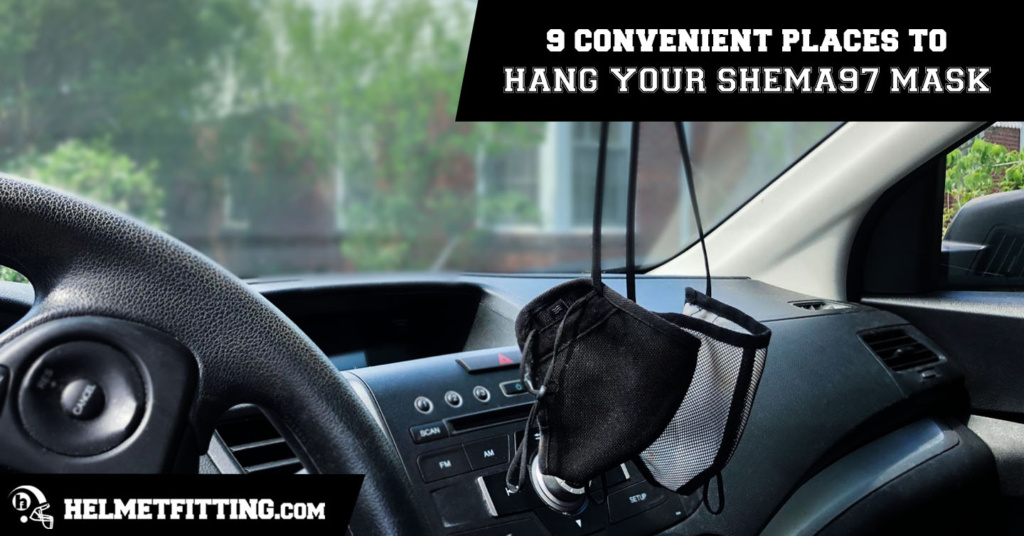 Did you know? Every SHEMA97 mask by HelmetFitting.comcomes with a lanyard, so that you can always have it with you—and hang it up when it's not in use. From easy access to safe storage, here are some of the convenient places to hang your SHEMA97 mask.
Around Your Neck
Thank you, lanyard! No matter where you go, you can always have your SHEMA97 mask on you—literally. This is especially convenient in places like airports, where you may be taking your mask on and off frequently and need those extra hands to carry your luggage.
Rearview Mirror
Need to run into the grocery store for a gallon of milk? Going to a spontaneous movie? Remembering you need to fill up your tank ASAP?
You can always have a mask with you if you hang it up on the rearview mirror. Just make sure it's not obstructing your visionas the driver!
Your Locker
Whether you're a student or an employee, a locker is one of the most convenient places to hang your SHEMA97 mask. You can even find mini magnetic locker hooks and accessories for extra organization.
Accessories Cabinets or Cases
Hang your SHEMA97 mask next to your necklaces and neckties. It's the perfect accessory for any type of outing! Plus, if you have multiple pairs, this makes it easier to select your fave from the pack.
Purse Hanger
You've selected a purse to match your outfit—and you can do the same with a mask. We feature multiple colors and styles—and they'll all fit in perfectly on your purse hanger.
Coat Rack
Finally, we've found a use for a coat rack in the summer!
Key Rack
You've got your wallet. You've got your keys. And how can you forget your mask? You won't if it's on your key rack. This location provides easy access as you come and go.
With Your Tools
The SHEMA97 mask makes a great companion when you're mowing, weeding, or doing any other outdoor chores. For your convenience, you can hang it with the rest of your hanging tools in the garage, for example.
Pro tip: You can also use your mask for indoor cleaning, like dusting.
On

Any

Attachable Hook
Desks. Walls. Tables. Wherever you can place an attachable hook, you can also hang your mask. After all, your convenience matters!
Summary
Our mask fits in anywhere! From your rearview mirror to your coat rack, there are countless convenient places to hang your SHEMA97 mask by HelmetFitting.com.
Want to see what we have to offer? Visit our online store here.
Have questions about our masks and how they work? Contact us online. Learn about all things HelmetFitting.com on our blog.